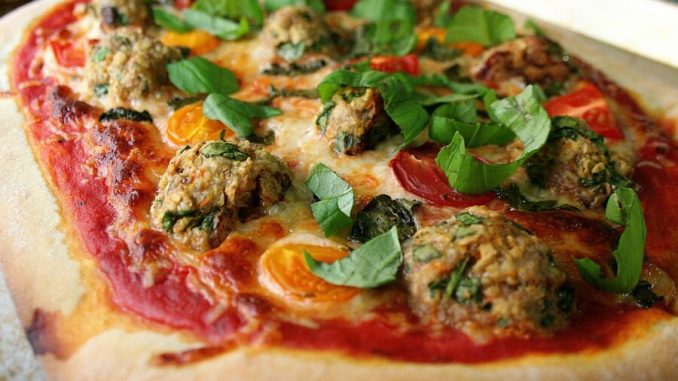 If you want to taste a delicious pizza and you have enough time to prepare it, Baked Meatballs Pizza could be one of your undoubted choices.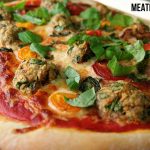 Baked Meatballs Pizza
Cuisine:
American, Italian
Ingredients
1

tbsp

extra-virgin olive oil

plus more for brushing

1

large egg

2

tbsp

breadcrumb

panko

2

garlic cloves

minced

1/4

cup

finely chopped flat-leaf parsley

1

cup

freshly grated Parmigiano-Reggiano

some

Kosher salt

some

freshly ground pepper

450

gr

ground beef chuck

800

gr

can crushed tomatoes

250

gr

pizza dough ball at room temperature

1

cup

basil leaves
Instructions
Preheat the oven to 230 Celsius. Brush a large baking dish with olive oil. In a large bowl, whisk the egg. Stir in the breadcrumb, garlic, parsley, 1/4 cup of the cheese, 1 teaspoon of salt and 1/2 teaspoon of pepper. Add the ground beef and gently knead to combine. Form the mixture into 2-cm meatballs and transfer to the baking dish. Bake for about 10 minutes, turning once until browned.

Meanwhile, in a large saucepan, heat the 1 tablespoon of olive oil. Add the crushed tomatoes and cook over moderately high heat until bubbling.

Add the meatballs to the tomato sauce, cover partially and simmer over moderately low heat until the meatballs are cooked through about 10 minutes. With a large spoon, mash the meatballs into large chunks. Remove from the heat.

Meanwhile, brush 2 large baking sheets with olive oil and preheat in the upper and lower thirds of the oven. On a lightly floured work surface arrange the dough on the heated baking sheets. Bake for about 7 minutes, shifting the pan halfway through baking, until lightly golden on top.

Spread the meatball sauce over the crust, leaving a 1-cm border around the rim. Sprinkle with the remaining 3/4 cup of cheese. Bake for about 5 minutes, until the crust is crisp on the bottom and the cheese is melted. Scatter basil leaves over the pizza and serve hot.
Recipe Notes
source: https://www.foodandwine.com/recipes/pizza-baked-meatballs
This post is also available in:

Persian