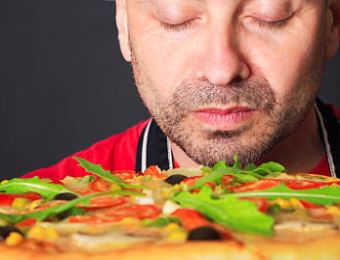 Probably you don't know Mr MAP, He is an ordinary man in his forties who loves food a lot. Everybody knows he loves Pizza. He says I am Mad About Pizza!!! Let's him to tell us his love story:
"I haven't eaten pizza until I was eleven.  Even I had no imagination about its shape and taste! One spring evening, my uncle family and I went to the cinema, after the movie they said let's go to a pizzeria, they kindly asked me: Do you like pizza? and my answer was: I don't know!
We walked through a big park and during the walking, I was imagining about the pizza shape, is it like a duck-fish or it is like an octopus ??? When I saw the restaurant that was a fast-food I thought to myself, "If its taste is awful I have the chance to ask for a sandwich!"
They brought the menu, there was only one kind of pizza on it:
PIZZA!
It took half an hour to bring our order, finally, they brought the pizza, wow it very hot and has a good smell, I thought "It should be eatable"! Adding some ketchup had been suggested too!
I started, the first bite brought a complex of tastes of sausages, tomato and cheese to my mouth and it returned happiness to my face!
The thick and small pizza was very delicious. After that experience, I became a pizza hunter!

High school gave me more chance of eating pizza, sometimes saving my pocket money let me go out for pizza with my friends. One cold winter evening one of my friends invited me for pepperoni pizza! He covered his pepperoni pizza with hot chilli powder and started to eat, I don't know why but I followed him! I burned but I finished the whole pizza. After ten minutes  I felt I was happier and the weather was not cold anymore.  New York style pepperoni was another lovely experience for me.

I started to cook the pizza by bakery dough, making the dough was a little difficult for me at that time. However, I am not a pizza expert but I have followed the book's recipes and I have made Italian and New York-Style pizzas many times. Being pizza fan for three decades has caused me to prefer thin (Italian and New York-Style) to dip dish and Chicago-style pizzas.
I believe for cooking a delicious pizza you need good materials, a good recipe, some experiences and LOVE!
As a pizza lover, I will write you more about pizza and my experiences."

Now you know who is Mr MAP, He will help us in our site weblog part. Chao

This post is also available in:

Persian